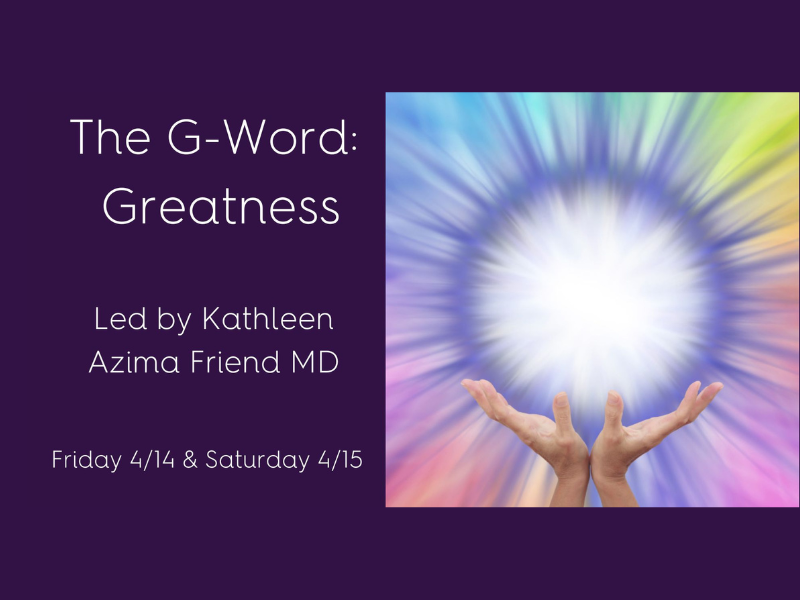 About Course
Discover and Unleash your Superpowers for Meaning and Purpose
Friday 4/14 from 5:00pm-7:00pm PT
Saturday 4/14 at 9:00am-11:00am PT & 12:00pm-2:00pm PT
"Everything is perfect as it is but can always be improved."
A Two Day Workshop Featuring Live Lectures, Meditations and Group Discussion
Led by Kathleen Azima Friend MD, author of The Greatness Chair, Sarah in the Greatness Chair and The Greatness Chair Solution which integrates greatness practices with HRM.
In this workshop we will discover how to see and appreciate our greatness so we can start using our super powers right now! When we truly see how our whole being including our weaknesses contain the seeds of our greatest possibility, we can move forward with meaning and purpose more confidently in life. As a school of applied meditation, we want to be able to fully harvest the teachings so we can apply them in our everyday lives.
Enrich your self-concept  through an expanded perspective including group and  partner practices to uncover and be seen in your greatness. Knowing our greatness helps us have greater clarity on how to live into the  purpose stamped in our hearts.
We rarely, if at all, have the experience of seeing our greatness mirrored back to us. This is an opportunity to experience this special gift and learn why finding greatness is part of mental, emotional and spiritual development.
This event is a transformational experience for beginner to advanced students of Heart Rhythm Meditation and iamHeart mentors. Taking inspiration from her book, The Greatness Chair, it can help not only individual growth, but give mentors, therapists, or coaches a new perspective and techniques to expand their toolbox.
Course Schedule and Format:
This 2-day live online workshop will consist of 3 sessions lasting 90-120 minutes each and include a presentation on the topic, group activities and meditations, breakout rooms to discuss experiences and a return to the group after breakout rooms to share the experiences and reflections.
Session 1: Introduction to the concept of Greatness, Barriers to seeing our greatness
Session 2: Explore the connection between greatness and purpose.  Get clarity about your greatness in the here and now as well as who you could become in the future. 
Session 3:  Models of greatness qualities: elements and archetypes , tools  and methods to see and grow greatness 
Show More
Course Content
Zoom Links
Friday 4/14

Saturday 4/15

Saturday 2nd Session
Student Ratings & Reviews
No Review Yet